Foundation walkers, runners & fitness participants in WA!
Are you an every day runner across suburban West Australia?
Do you love to share your running experience with people on social media?
Are you an active runner at your local running events or communities?
Are you interested in leveraging from one of the most energetic and connected event social media teams in Australia?
Would you be excited to attend all official event functions as an official PRF Champion VIP?
Champion A Social Revolution!
The social revolution that has been created by the 2018 Perth Running Festival first year community has been tremendous and we really value that.
With a quick glance across the social media event profiles for Perth Running Festival, you'll quickly see that we have the best and most engaged runners across Australia on our side at Perth Running Festival!
A huge part of our growth towards a better event experience in 2019 will come from you, our life active and committed runners and walkers from suburbs and towns across WA.
Are you a champion for running & keeping fit?
We want real people with epic and exciting stories to tell about their life of fitness while training and running. We want your story, in ways that inspires an audience!
Become a star of the 2018/2019 event marketing and social media calendar as a personal content creator and sharer!
We've seen hundreds of exciting PRF Champions on socials so far and we're just waiting for you to apply!
We are excited to receive applications from;
Adult males of all ages.
Adult females of all ages.
Couples of all ages.
Families of all ages.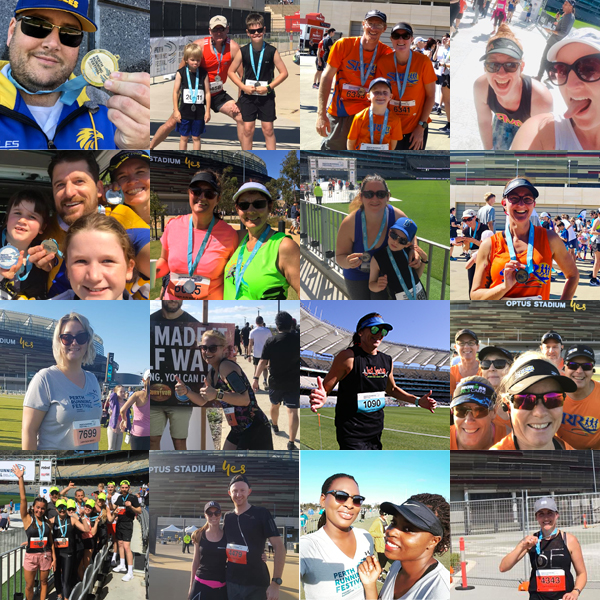 What you get:
Two full Perth Running Festival running kits
Two sets of running shoes.
Free race registration.
10 Free entries to give away.
Invitation(s) to all Perth Running Festival functions.
Entry to Perth Running Festival VIP hospitality area.
What we expect:
You create visual content in at-least 2 categories related to fitness, health and physical activity.
You be available for a day of video shooting, in the month of January 2019.
Your content be authentic and follow the guidelines in our PRF Champion Influencer Content Guide.
You create & engage in a Public Champion walking / running team for the 2019 Perth Running Festival event.
Apply to be a PRF Champion!