RACE PACK COLLECTION AT CROWN
Get ready for race day by picking up your race packs, make changes to your personal registration information, access clothing drop-off and have your race day questions answered.
PACK PICK UP
All participants who have not opted to have their race packs posted to them and paid for their postage will have to attend the Race Pack Collection to collect their bibs prior to event day. 
LOCATION
CROWN
ASTRAL BALLROOM, ROOM 3
OPENING HOURS
Friday 6th October 
10AM - 7PM 
Saturday 7th October
10AM - 4PM
WHAT DO I NEED TO BRING?
To pick up your race bib you must bring a copy of your confirmation email received from Race Roster at the time of registration.
Race bibs will be allocated to your confirmation number, therefore it is important you have your confirmation email ready prior to attending so our staff can allocate a bib for you.
If you cannot locate your confirmation email please email us HERE or visit the information desk when visiting the expo so we can assist you.
I CAN'T ATTEND TO COLLECT MY BIB. WHAT DO I DO?
If you are unable to pick up your race bib, you will be able to nominate someone else to collect this on your behalf, the nominated person will need to bring a copy of your confirmation email.

No race bibs will be collectable on race day.
TEAM/GROUP RACE BIB COLLECTION
The team captain can collect the bibs for their team, provided they have a copy of the confirmation emails of the team members. 
CHANGING EVENTS DURING RACE WEEK
Any changes after Thursday 5th of October 2023 will need to be processed from the Information Desk at the expo. No forms will be accepted by the office after 5PM Thursday 5th of October 2023.
GETTING THERE
Pack collection will be held at The Astral at Crown. Please refer to the below map. 
Astral Ballroom, Room 3 is located next to the Crown Theatre, between Crown Promenade and Crown Metropol hotels.
Proceed thought the P6 carpark tunnel entrance and up the escalators, this will take you to the casino entry. Please bypass the casino entry and head towards the Market & Co. restaurant on the right.
The venue is then located to the left of Market & Co. inside the theatre entry.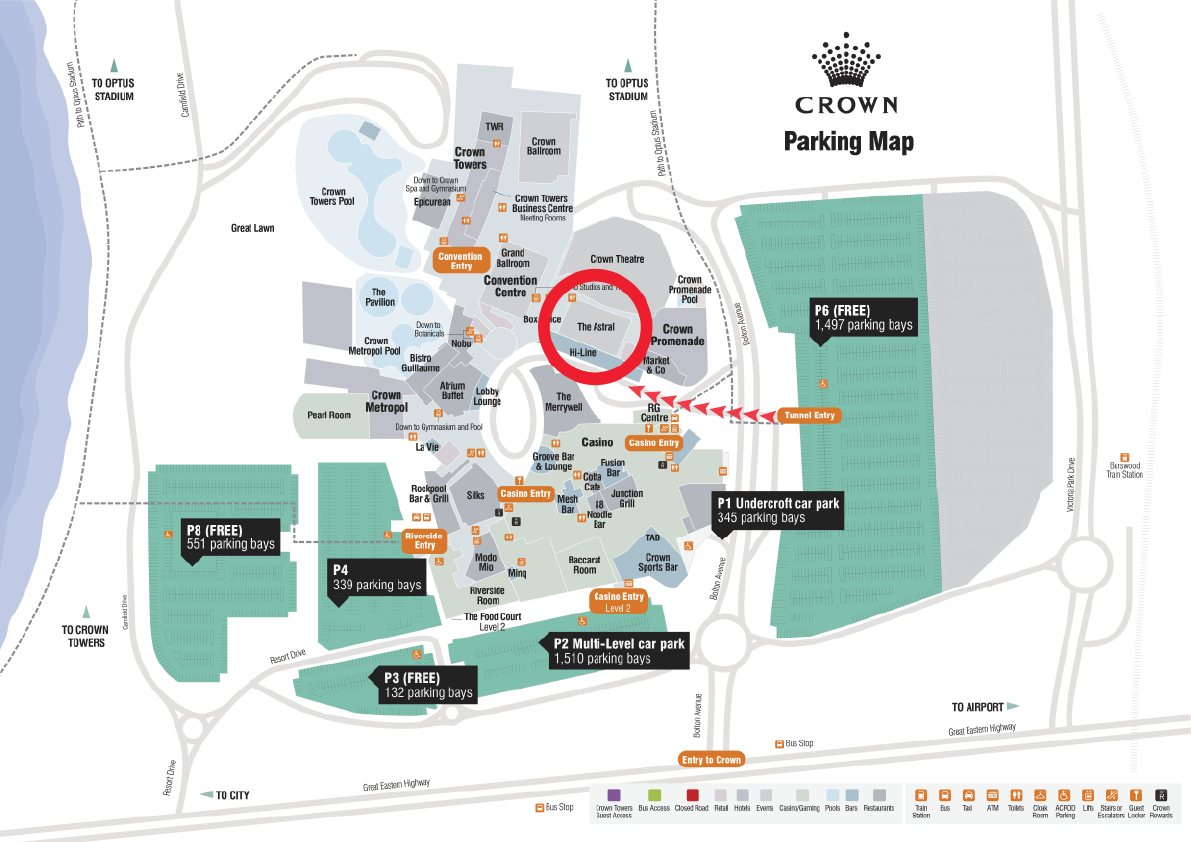 CLOTHING DROP OFF SERVICE
A Clothing Drop Off Service is available for participants to leave a few pieces of clothing, to be collected post-race. You will be required to visit race pack collection during operating hours as there is strictly no clothing drop off on race day.
For more information please contact us at info@perthrunningfestival.com.au.